Good Morning,
If I write such a post, I will quickly glance at $SPY and $QQQ and some tickers that I will watch today for a possible day trade from a #TheStrat-View as well as some Tradytics unusual flows caught my eyes.
Would really appreciate your feedback, what you think about that format.
You can also subscribe to those Morning Brew issues via my Newsletter to get it via mail.
Turnaround Tuesday 2/8
Hopefully we see some uncoupling today. Trying to focus on some potential day trades in this format and provide my thoughts about $SPY and $QQQ as weel as specific tickers, $MSFT, $AAPL & $OXY. Also some unusual high volume Tradytics options flows at the end.
$SPY Possible 2-1-2
Both sides possible, right in the middle of the week and month. Trigger long is above 450.99, short is below 445.85. After the dip before close it looks a bit more bearish currently.
$QQQ Possible 2-1-2
Same as $SPY above, also looks slightly more bearish currently. Trigger for long is above 361.05, short below 353.84.
As always, not financial advise! These are my ideas and triggers that I watch, please always research and manage your risk for yourself
Some tickers I have on my watchlist for a day trade are listed below.
TheStrat Inside Day yesterday
My TrendSpider* scanners found the following inside day yesterday tickers:
$PEP, $SNAP, $COST, $MU, $FSLR, $SQ, $HD, $V, $CHWY, $AAPL
AAPL in more detail below, the others are high on my watchlist today as well.
$MSFT 2-2d Weekly 🐻
$MSFT triggered the 2-2d weekly below 299.96 today and I'm now eyeing on the Daily chart if we get a 1-2-2d Continuation below 299.90 to take the week short. Targets would be 265.61 and 294.45.
$AAPL 2-2d Weekly 🐻
$AAPL might also trigger the 2-2d Bearish Reversal Weekly below 169.51. The Daily chart with a possible 2-1-2d Continuation below 170.95 would be a nice entry trigger.
$OXY 2-2u Daily 🐮
Strong sector, and a 2d but green today. Great entry I watch for a 2-2u Bullish Reversal Daily above 41.50. Target is 42.31 and for a swing 43.60. I had $OXY also on a previous #SundaySwing issue with the same targes for a longer swing.
Tradytics on watch
Always on watch, cheap high volume contracts from yesterday: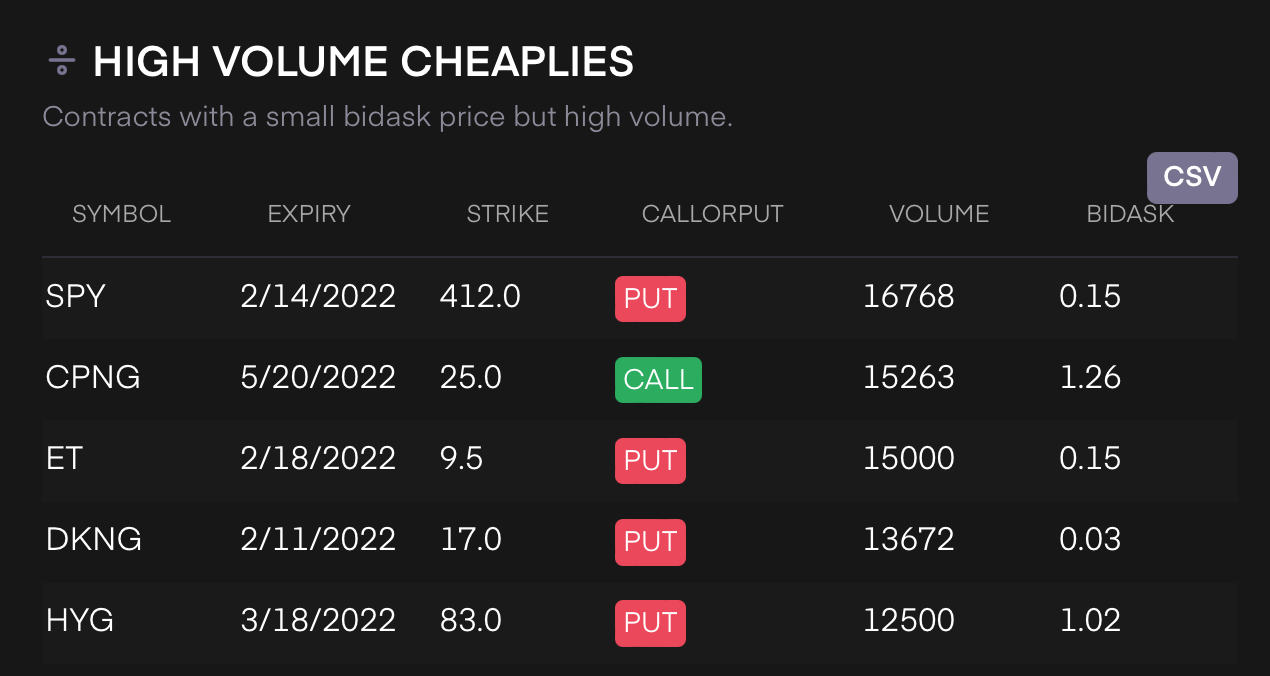 $FB caught my eye on the flow, because it got hit with around $1.7M 2/11 225c short before close.
Final words
That newsletter is still in development and my first version, which might be changed on the next one.
If you have any feedback, what you like or dislike or you don't want to get that info at all in the morning, please feel free and let me know.
Wishing you all a nice green trading day!