PSA: I know the intersection is small, but I wanted to share this anyway.
Since I started using Tradytics more for extra confidence when finding posible #TheStrat setups, with more targets to chose the "better" contract expiration or strike, i created a Alfred-Workflow to use the Discord-Bot commands a lot quicker.
This might be only useful to the 2 people out there, that use the following tools:
A Mac
Alfred with PowerPack (requires the Mac 🤷‍♂️ )

If you have Alfred you know how powerful that tool is, if you don't have it, check it out and unleash the full power of your Mac. The workflow here is pretty simple compared to what Alfred else can do.

Discord with a Tradytics-Bot (obviously)

Of course everyone today is member of a Discord, if that Discord-Server has a Tradytics subscription you can query the commands there. No extra Tradytics subscription needed for that.
This is how it looks in Alfred: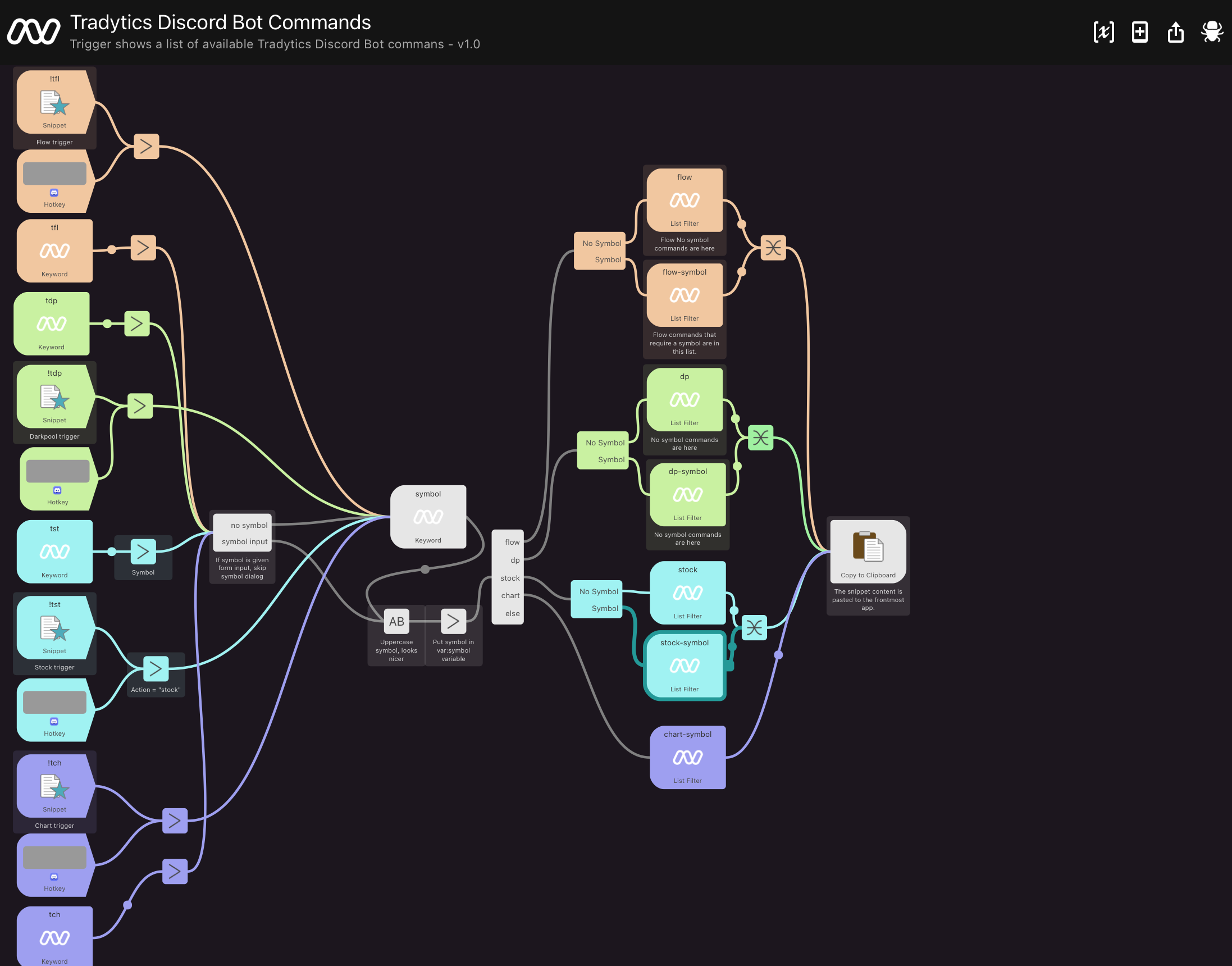 Here is a short video, showing it in action.
Usage
Quick documentation on how to use the workflow
I implemented most of the available Discord commands for the Tradytics Discord Bot. For an overview look there.
Alfred Command
So far 4 different "layers" for the commands are implemented:
tfl -> flow commands like _tr-algoflow ticker 1/5_, tr-algoflowdivs 1

If you specifiy a SYMBOL (e.g. AAPL) the workflow shows you the possible symbol-related commands
Skipping the SYMBOL, then only the commands without a symbol are shown.

tst -> stock info commands like tr-scany ticker, tr-all AAPL, tr-srlevels AAPL d

If no ticker is specified it limits the commands to those without a symbol needed

tdp -> Darkpool infos tr-largestdp, tr-dplevels AAPL

Ticker specified shows you the commands for a ticker
Without a ticker, only those commands

tch -> Chart commands like tr-chart AAPL m 5, tr-chart FB w 1
Shortcodes
Also, you can use the commands directly when typing into a text-field prefixed with an !:
Hotkeys
Customize the Workflow in Alfred and add memorable Hotkeys for yourself. I did not enable them in the workflow I provide, to not override any of you already used hotkeys.
In the Alfred Preferences -> Workflows -> Select the Workflow and the predefined Hotkey Trigger and add a Hotkey. Example would be CTRL-CMD-F when in Discord for the Tradyflow command.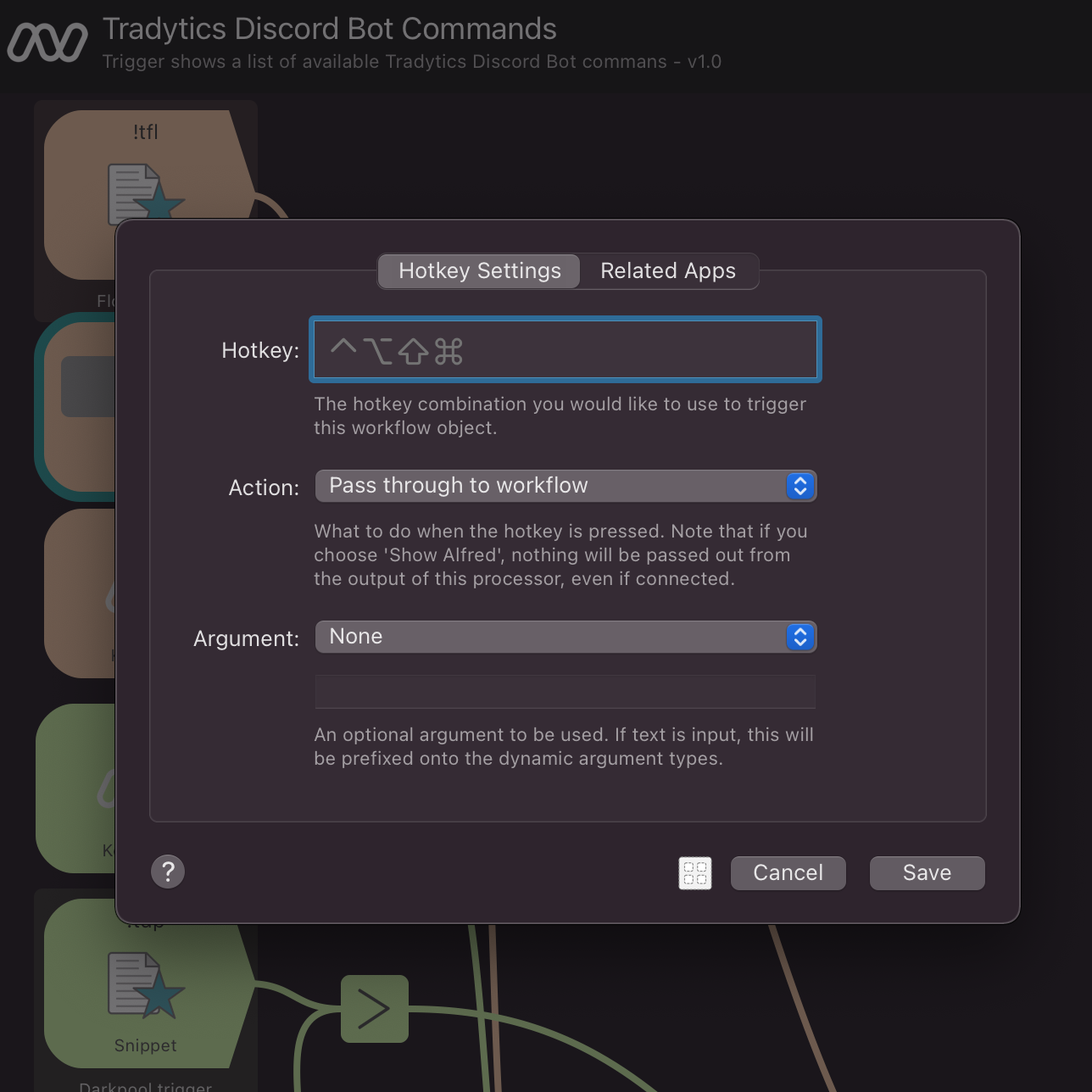 In the "Related Apps" Tab Discord is defined, so that the Hotkey only works when Discord has focus.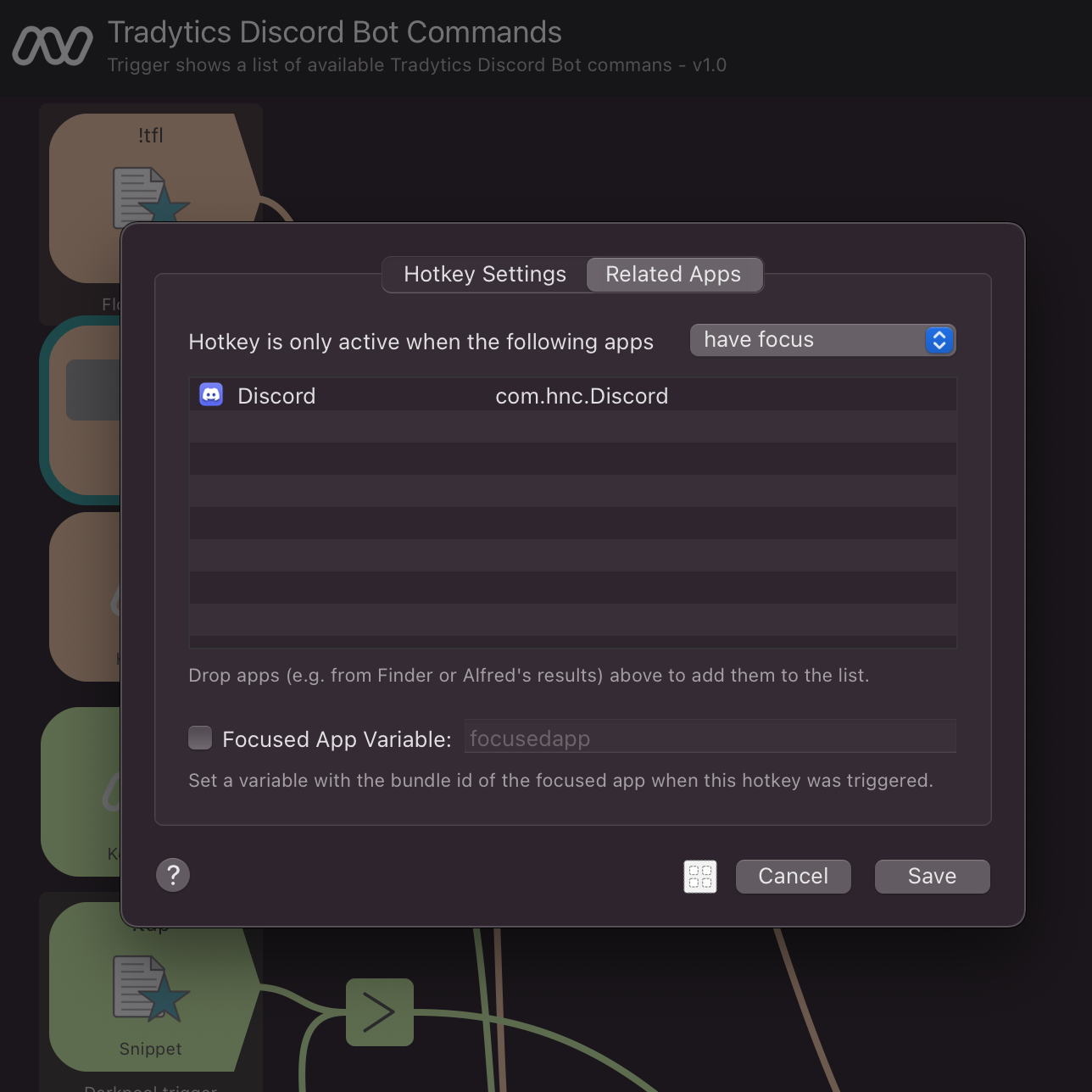 How to get it?
Send me a mail to rene@stratinator.com and I will send you the Alfred Workflow file. I don't charge anything for this, but if you like it I would be happy to get some feedback and also share the infos to the world.